Our newest launch, the Acid Solution, is a liquid exfoliator designed to brighten, refine and even skin tone. Suitable for everyday use, it combines AHAs and BHA with moisture boosters to leave skin feeling hydrated, plump and supple. Here's everything you need to know about AHAs, BHA and Omorovicza's Acid Solution.  
What
's
The
Difference Between AHAs and BHA
?
AHAs (also known as Alpha Hydroxy Acids) and BHA (or the Beta Hydroxy Acid) are both exfoliating acids. However, they work in slightly different ways: 
AHAs (such as glycolic acid, lactic acid and caviar lime) are water soluble and primarily work on the skin's surface to improve cellular turnover. They break down the bonds that allow dead cells to cling to the skin's surface, causing them to shed and revealing the fresh, radiant skin beneath. 

 

BHA (or salicylic acid)

is oil soluble and can penetrate deep 

into 

the pores, dissolving oil and bacteria. It helps to treat blemishes, blackheads and skin imperfections, while preventing future clogging too. 

 
For best results, we recommend using a skincare product that combines AHAs and BHA, like Omorovicza's Acid Solution, to reap the benefits of both.  
What Does 
Omorovicza's
 Acid Solution
 Do?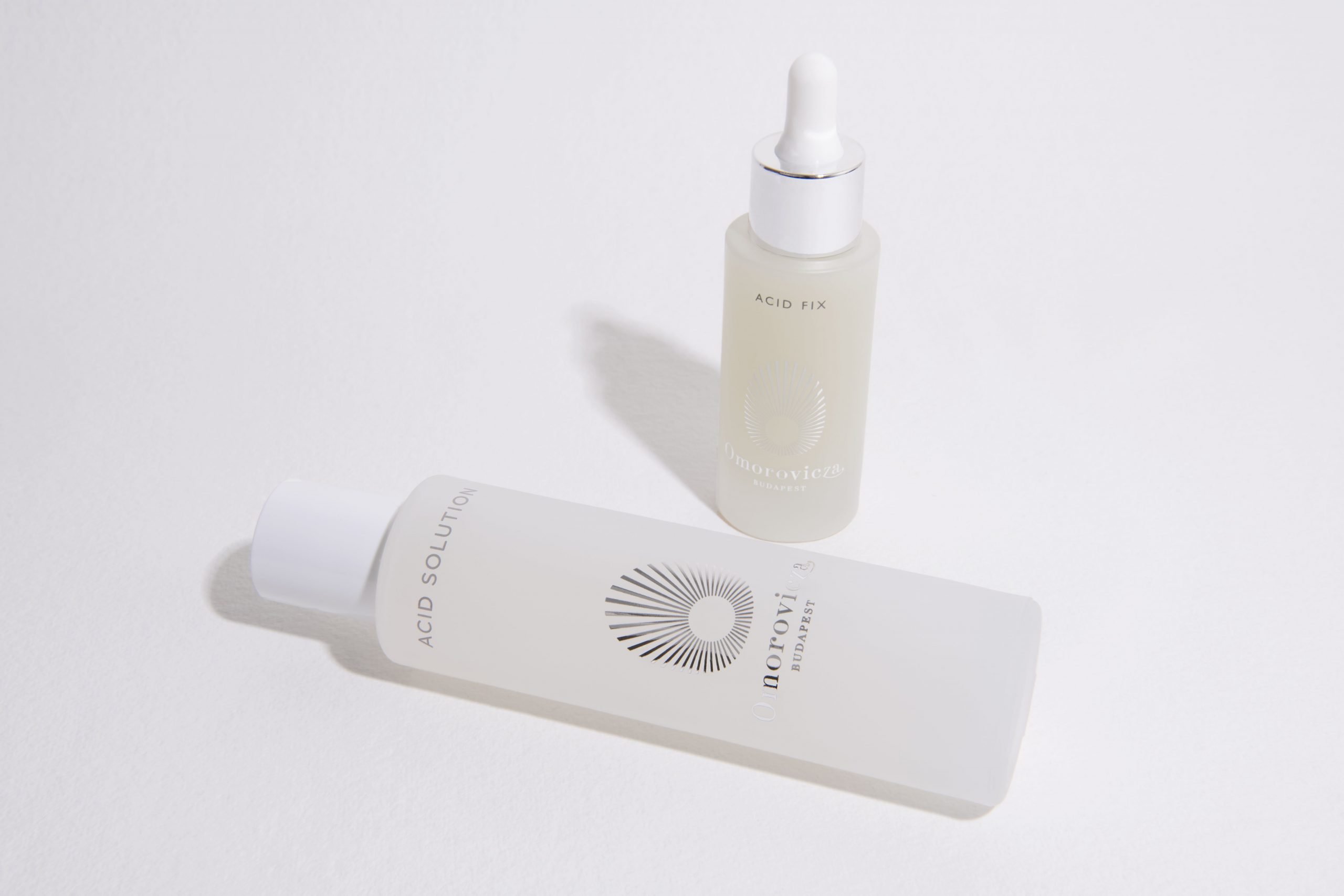 The Acid Solution is a liquid exfoliator. It combines a potent blend of AHAs and BHAs with hydrating polyglucoronic acid and Omorovicza's unique HEALING CONCENTRATE™ to gently refine and brighten the skin, while hydrating it too. 
2.1% glycolic acid (which boasts small molecules that can penetrate the skin) helps to dissolve the layer of dead cells that make skin appear dull and lacklustre. This stimulates cellular turnover, revealing soft, smooth and glowing skin.

0.9% lactic acid works to refine and smooth the skin's surface, helping to reduce the appearance of fine lines and wrinkles. 

 

Caviar lime restores luminosity, by evening skin tone and reducing pigmentation.

 

0.5% salicylic acid penetrates below the skin's surface, helping to unclog pores and clarify the skin.

 

Polyglucoronic

 acid stimulates the production of hyaluronic acid, helping the skin to retain more moisture. It helps keep skin hydrated, making it

 

appear 

visibly

 plumper and firmer.  

 

Mineral-rich HEALING CONCENTRATE™ leaves skin firmer

 and more supple, with a

 

youthful 

appearance.

 
Expert Tip: The Silver Skin Toner which works best on blemish-prone skin and helps to regulate excess oils. This liquid exfoliator is suitable for all skin types, working to brighten and refine the skin.